Conceptual Budget Generation
The first step to getting a project off the ground is getting a firm handle on the potential cost. David Odell, Robert Pifer, and the rest of our team combine experience, relationships, and data to help our clients convert their ideas into detailed scopes and costs. Give them a shout and see how they can bring that same value to your next project.
Process Equipment Installation
Steve Hermes and his team are doing a fantastic job installing the process equipment at one of our industrial waste water treatment projects. Our proprietary production system combined with our phenomenal people ensures that the most technical aspects of a project are completed successfully.
UCI's Value Engineering Process
Our Value Engineering process drives an average savings of 11% of the total project cost, and reduces the project duration by 16%.

The Value Engineering Component is one of the many benefits of choosing an Integrated Project Delivery Method. This process creates a collaborative and fully transparent environment that tackles the unique challenges every project presents and ensures that the project's overall goals are pressed to the forefront. Reach out to our team and learn how we can direct you on a path to constructing the best project possible
Non-Disclosure Agreements (NDA's)
In today's operating environment we believe that the most valuable thing we can deliver is TRUST

Non-Disclosure Agreements (NDA's) and Confidentiality Agreements (CA's) have become a significant part of our operating vocabulary. We recognize the importance of our role in protecting the intellectual property and proprietary nature of the critical projects that we construct for our clients throughout the United States. While NDA's and CA's keep us from sharing incredible photos and telling stories of the complex work that our teams execute on a daily basis, we ensure that our teams follow the protocols necessary to maintain the trust that our clients have placed with us.

Connect with one of our team members and see how we pair our role as a trusted partner with an unmatched commitment to delivering predictable project solutions.
99 Days of Summer Initiative
The 99 Days of Summer initiative highlights the unique hazards that our crews face in the summer months and ensures that behavioral changes and controls are implemented throughout the entire organization. Congratulations to all our team members! Their focus and dedication to upholding our number one core value is paramount to the success of all of our safety initiatives. Stay Focused, Stay Diligent, Stay Safe!
UCI understands the role that extreme weather plays in developing a project risk profile. We analyze statistical factors to generate comprehensive mitigation plans. Give us a call to gain our insight on how to mitigate critical project risks with a data driven approach.
UCI Celebrates 70 Years in Business
Since 1950, UCI has been dedicated to building and maintaining long-lasting relationships. A focus on innovative processes, data-based communication, and uncompromised safety has allowed UCI to drive value to our clients, while also fostering a positive and collaborative environment for our employees. For the past 70 years, our team has been driven by a commitment to generate solutions and outperform expectations. To learn what a partnership with UCI could mean to you, message us today
UCI is utilizing Microsoft Business Intelligence to create a dashboard for our clients which showcases the project health and schedule. Our innovative scheduling technology identifies potential issues early, providing value to our clients by saving time and money.
Today marks the first day of our "99 Days of Summer" program. More workplace injuries happen in June, July, and August than any other months. We count down the days while mitigating and sending out weekly safety videos, briefings, and having proactive safety contests!
UCI recently completed two new lift stations which consisted of a north phase lift station and a south phase lift station. In addition to the new lift stations, a new Parshall flume and two valve vaults were installed. Yesterday morning we tied-in the existing sewer line to the new piping allowing flow to be directed to the Parshall flume structure, which will measure the flow of wastewater prior to entering the existing lift station.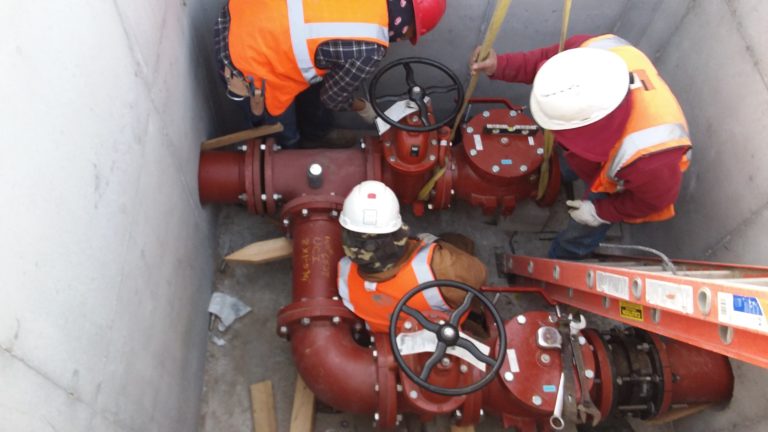 UCI Receives Family Business Award
Last night UCI was presented with a Family Business Award from the Wichita Business Journal. We are honored to receive this recognition and pleased to be a part of the Wichita community.
"Everybody has traveled some tough paths and they have a lot to offer if you just stop to listen." – Jeff Grier, President of UCI
Bardenpho Basin Concrete Pour
This video is the actual time lapse sequence of a Bardenpho Basin's wall and slab concrete placements. This video came from a software program that UCI uses to model structures for planning and visualization purposes.

UCI's plan was to build the basin from both the top and bottom of the excavation. Because we worked out of the bottom UCI leadership had to pay careful attention, to assure, slab and wall placements did not outpace the cranes reach capabilities.
Bardenpho Train Completion
UCI recently completed construction on one of three new trains in a Bardenpho basin process system at a wastewater treatment plant. The train was leak tested and filled with 5,251,500 gallons. One train is equivalent to 8 Olympic size swimming pools. At 8.34 lbs/gal. the water in the structure weighs about 21,900 tons. Once the project is complete, the structure will be large enough to fit two and a half football fields inside.